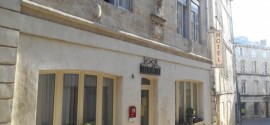 Welcome to our boutique hotel : Hotel of Montaulbain to Verdun
To – 1 time Paris time in TGV, right in the heart of the city center of Verdun, put down your settle down in Meuse of Lorraine and come to cross a weekend or one night between friends, in family or for professional reasons in our boutique hotel : Hotel of Montaulbain classified 3 stars.
In some not only of several monuments, restaurants and shops, our hotel of Montaulbain *** invites you in the relaxation and in the peace of mind. Immediately our doors were exceeded, you will be seduced by the at the same time warm and peaceful atmosphere of our human-sized hotel in which you will quickly feel at home.
We provide you with our 10 different bedrooms of which a family suite which were renovated and decorated in tones soft and soothing. We stay up the quality of your sleep thanks to a recent bedding and a top of the range, braids and plump pillows which give you the sensation to be wrapped in a wave of sweetness and heat.
News : ACTIVITIES AND LEISURE
YOU CAN HAVE ALSO THE LAST INFORMATIONS AT THE TOURIST OFFICE
A WELCOME KETTLE AND A  SMALL LITTLE BOTTLE OF WELCOME WATER PER PERSON ARE ALWAYS AVAILABLE IN YOUR ROOM.
Looking forward to having the pleasure of welcoming you, Fabrice, Victor
Amenities
Free WiFi, hotel completely no smoking
Living room
Fraiches or hot drinks available
Restaurant reservations, Booking Taxis
Closed on Sundays, see availability table
Deposit of luggage
Tourist Information
Hotel not Accessible to People with Disabilities
Mailbox possible
Pets not allowed
Air conditioning on the third floor
Breakfast
Bicycle storage room