Bedroom n°18 – 2 beds for 1 person
Amenities
TV
Free Wifi
Wardrobe
Non-smoking
Bed 2 person160/200
Small lounge area
Soft braids
Big pillows
Keys to 17 pm
Our bedroom n°18 is spacious to feel comfortable from 2 people, from 99€ at night from 1 to 2 people.
For your well being

: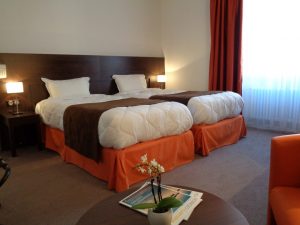 For holidays of relaxation and to be well in Verdun, stay in our bedroom n°18 unique and spacious for repair nights.
This bedroom in warm colors by her, tones orange tree and brown, which you will find in curtains made by a creator and her custom-made woody bedhead. The quality of the new bedding, got you a feeling of zénitude. You have the choice between 2 beds of 1 person of 100 by 200.
The bit extras of this room are its big Cupboard to put it your dresses, your costumes with wooden flies and orange armchair to read comfortably your magazines or your book. This room is situated on the second floor without elevator.
A space office is at your disposal to connect your laptop computer or device.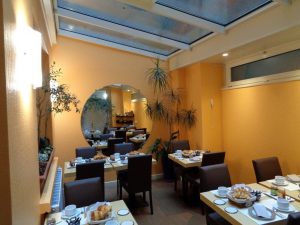 In the morning for 11,50€ per person you can have breakfast between 7:30 am and 10 am
Concerning Bathroom:
Take advantage of the bathroom, with a big shower and  cosmetics.